of eco-friendly home improvements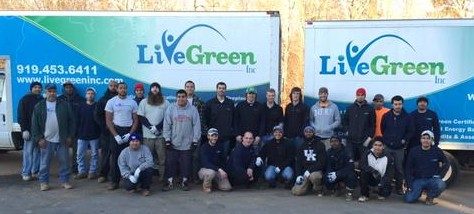 Experienced Energy Efficiency Professionals
We know that when homes are optimized for energy efficiency, people save money. Whether you're a homeowner or a building contractor, our experienced professionals will help you find the right solution to fit your needs.
In 2003, current LiveGreen owners, Roland Blaise and Bruce Eickhoff, began Triangle Sealed Crawls after being introduced to the concepts behind sealed crawl space systems. Roland and Bruce understood the benefits homeowners could receive by moving beyond a simple plastic ground cover and installing a system that controls moisture, lowers utility bills, and improves air quality.
In 2009, Triangle Sealed Crawls started working with LiveGreen, Inc., a leading provider of eco-friendly home improvements. Local to the Triangle area, LiveGreen was founded on the principle that there are many cost-effective home improvements that result in a healthier, more energy efficient home. Triangle Sealed Crawls merged with LiveGreen and the combined company continues to lead the way in cost-reductive, eco-friendly home improvements.