LiveGreen's customers seem to appreciate our strong work ethic, integrity, friendly customer service, and that we save them money by making their homes more energy efficient. And while we're grateful for all our clients, we'd particularly like to thank the folks who personally offered their appreciation.
What Our Customers Are Saying About Us
Insulation Redo!!
Chris Allen was professional and thorough!!! The job was well done! I personally went underneath in the crawlspace and saw how clean and professional their work is! I automatically recommended them to a neighbor.
Rana Daher
Crawlspace Encapsulation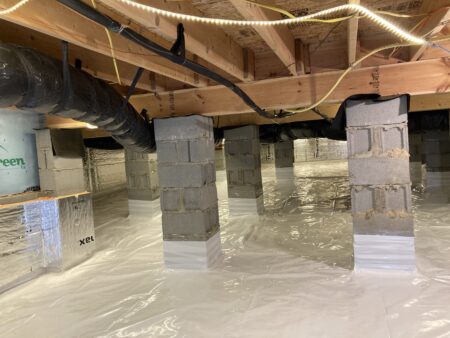 LiveGreen did a fantastic job. They did exactly when and what they said they would do. And at a very reasonable price.
I put LED rope lights throughout the crawlspace and my wife says it now looks like a dancehall under the house!!
Rand S
Encapsulate Our Crawl Space
We had Live Green seal and encapsulate our crawl space approximately 5 years ago, I believe it was in Sept 2014. Originally we had moisture problems, several/many of the floor joists had more than 40% moisture content, and most joists had at least 20% moisture content. The moisture problems developed into rodent and mildew problems. Also we would occasionally smell a musty smell inside the house, I believe it was from poorly sealed AC registers in the floor. During the summer and winter, doors in our house would jam in the door frames. In summer some doors would jam, but in winter those doors would free and different doors would jam. In the summer, we would have a depression in the hardwood floor in our dining room. In winter that depression in the dining room floor would flatten out.
I do mostly DIY projects, but I knew I would never be able to finish a crawlspace encapsulation in a time frame which would make my wife happy. To deal with moisture entry I installed drainage around the outside of the foundation. Then I dried out the crawlspace with a large shop fan. Afterwards I hired Live Green to encapsulate the crawl space and replace all the AC ducting and plenums (rodent problem). Prior to Live Green encapsulating, the drying efforts brought the crawlspace down to less than 15% everywhere.
During encapsulation Live Green removed all the old joist insulation, sprayed and physically scrubbed mildew from the joists, added vents to the crawl space plenums to condition the crawl space, and placed the foam board and vapor barrier on the block walls. They also pointed out some water intrusion in the crawl space due to leaks in siding and flashing, which I was able to fix. Immediately upon completion, we noticed that the musty smell was mostly gone. Within about 6 months, we noticed that the doors were not jamming the same way they had always been, and also that the depression in the dining room floor was different. Within a year, the doors which jammed were consistently jamming and not changing at all. Also the dining room floor depression became consistent (the fact that there is a depression is because the builder did a lousy job). What this means is that the crawl space continued to dry out after the encapsulation was completed, and since it encapsulated, the different conditions of winter vs summer are not effecting the crawl space. The consistency made the door jams easy to fix.
We have a 330 gallon propane tank. In the last 5 years we have noticed that we now only use about 2.5 tank fulls of propane per year, where previously we had used at least 3 tank fulls of propane. There have been no other changes to our consumption. I never would have believed this would happen if we had not tracked it ourselves. The floor is much warmer in the winter, but I really don't notice a difference in the summer. I measured the floor joist moisture content recently, and many joists would not register any reading on the moisture meter. My moisture meter will not read below 7% moisture content, which means the crawl space has continued to dry over the last 5 years (they were about 15% prior to encapsulation).
If you are reading this review and doubt it because it all seems very specific, well you are correct, it is very specific. I am an engineer by profession and I am cheap by nature, so assessing before and after results via data is something I do all the time, especially when it's my own money I'm spending. Writing the check was painful, but frankly, if I ever buy another house, I'll have the crawl space encapsulated pre-emptively. This was one of the best improvements we have made to the house, and I am very happy with Live Green's performance given the price.
Jared Rude
We Love the Quality of Your Work.
Just wanted to extend my thanks for sending Tyler and Joe over to our house in order to inspect and re-tape those seams. Tyler and Joe were pleasant to talk with and professional with their work. We love the quality of your work.
T. L.
We Love Our Crawl Space Now
We love our crawl space now! Thanks very much!
Marie and Tom M.
Integrity and Honesty
Your company has excellent customer service staff. Greg and Bruce were professional, personable, and delivered quality performance through workmanship and communication. This represents a company of integrity and honesty. Thank you for my crawlspace improvements—above all expectations.
Kathy S.
Crawl Space
I can't stop looking at the after pictures I took of the crawl space (it's night and day).
Nicole T.
Crawl Space Looks Awesome
My crawl space looks awesome. LiveGreen's people were extremely friendly and courteous. Many thanks.
Luke M.
Outstanding
I just wanted to let you know that the work done by your guys was outstanding. To say the least, they were well equipped, did their assigned tasks, and kept the yard and area clean. We are happy to say that finally there is a company out there that cares about their work and the finished product. We will highly recommend you to family and friends. Thanks again!
Walter L.
Both Boys' Health Has Improved
Just a note to express my gratitude in the job completed recently. Both of my boys had battled respiratory/allergy issues prior to completion of the sealed crawl space. Due to the excessive rain and heat in early spring, we experienced the unpleasant effects of saturated soil under the house. Since the job was completed, both boys' health has improved and there are no signs of any prior problems. Here's to hoping our electric bill falls this summer as well! Thanks for the good work.
Justin B.
Thank you
Thank you all for everything you did for us in dealing with our flooded crawl space. Over the past couple of years we've had unhappy experiences with contractors who did not want to take responsibility for problems with their work. By contrast, you worked to fix a problem that was not at all of your making! The contrast is stark and makes us even more appreciative of LiveGreen.
Robin & Paul M.
Professional Company
We wanted to upgrade our home to new building standards after an annual inspection revealed damage to the insulation in our crawlspace. We contacted Roland and were impressed with LiveGreen because their proposal covered wall insulation, high-quality floor lining, and conditioned air at a good price.
The project implementation was excellent. The friendly crew arrived on time and completed the project in two days. They all took great care to minimize the impact to landscape plants, putting put down plastic sheets for the debris, and removing all waste each day. We are very happy with the finished product. We have hardwood floors and tile throughout the ground floor and they are considerably more comfortable now that the crawlspace is sealed. It is really a pleasure to deal with such a professional company.
Rich M.
You Stand Behind What You Do
I wish to thank you for sending your guys out to address my concern. What they did seems to have done the trick. I thank you not only for your professionalism, but for how you stand behind what you do. I was willing to pay to have your guys come out, and I am very grateful for your courteousness, professionalism, and integrity. Your company epitomizes the type of organization with whom I will choose to do business.
Albert G.
Crawl Space Looks and Feels Amazing
We bought a 30 year old townhouse that had some moisture issues in the crawl space. LiveGreen came in with a reasonable quote, very efficient, kind people, and the crawl space looks and feels amazing! If you want a top notch job done, LiveGreen is the
Charlotte R.