Choosing Our Professionals For Inspecting Your Crawl Space
The expert team of professionals at LiveGreen can install sealed crawl space encapsulation systems that will lower your energy bills (hello, 20% reduction, woah!) and have your home feeling more comfortable (heck yeah!). Ready for better indoor air quality? Encapsulation provides your home with the best indoor air quality. Also, you will be pleased that the reduced moisture levels in the crawl space make the area less moldy and eliminate dry rot.
It is our pleasure to serve NC residents- in the Triangle and in eastern NC. When we go out to residences to check crawl spaces, we give thorough reports of the conditions we find so that you have peace of mind.

Vapor Barriers Make A Huge Difference With Encapsulation
When we encapsulate the crawl space, we are adding a heavy-duty lining. This moisture barrier that we add under your home covers and seals the floors, walls, and the ceiling of your crawl space. The vapor barriers can be boosted with additional insulation between the foundation wall too. It is important that a vapor barrier be durable and high quality. Another service we recommend is sealing your open vents. Rest easy. Outside air and moisture won't trouble you again.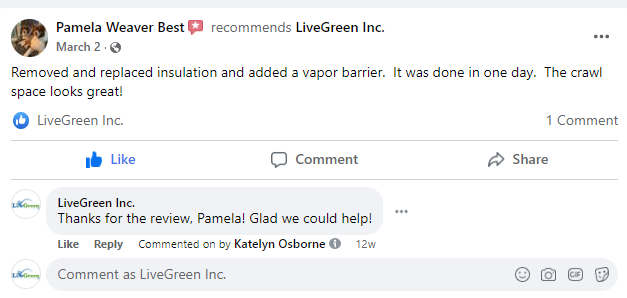 The Service You Need- Call LiveGreen
We look forward to servicing your home next, whether it is for rotted wood, sagging insulation, mold growth, pest and rodent infestations, or filthy ductwork. Contact us now for fast service.

Get An Estimate On Encapsulation- Live Green Inc. | Raleigh, NC
#ChooseLiveGreen