Crawl Space Moisture Affects Flooring In Your Home
Noticing sagging floors can lead to instant stress. How did your floors become saggy? Low spots in the floor can be caused by lack of structural support and moisture in your crawl space.
Our team at LiveGreen can assess the situation in your crawl space. We can alert you to the condition and amount of the block piers under your home. It is important that your block piers are correctly installed on concrete footings. To keep the foundation of your home strong and sturdy, it is important to add additional support such as joists and girders in the crawl space. As a result, this stabilizes everything, including your floors.
Healthy Moisture Levels
Crawl spaces need to maintain healthy moisture levels. When the level of moisture is too high, it is time for our professionals at LiveGreen to come and control the space and make it much drier. There are several things that our service providers will do to ensure a drier crawl space. First, adding multiple new crawl space vents is necessary. Ventilation helps with the circulation of air under your home. Next, LiveGreen can install moisture barriers. In addition, the rainwater may be getting in and staying because of the current grading of the crawl space floor.
The grade inside the crawl space needs to be higher than the grade on the outside of the home. A solution to this is sloping grades in a way that is beneficial and does not allow for the water to pool into your crawl space. It is necessary to be proactive and get your crawl space issues resolved in a timely manner to avoid several serious environmental hazards. These hazards of moisture in your crawlspace include mold and mildew.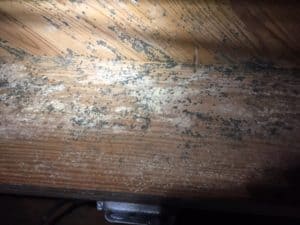 LiveGreen Has The Solutions For Your Sagging Floors
Contact
LiveGreen today to protect your home from what appears in the crawl space. We can come out and assess your crawl space and provide you with an estimate. Call now.