Our Services
At LiveGreen, we offer several different services, installing spray foam insulation, blower door and duct testing, adding vapor barriers, and sealing crawl spaces.

Get An Energy Audit – We Check Out The Crawl Space Access Door
Inside your home, the warmer the air gets, the higher it rises. It pressurizes more and finds its way out like it would in a chimney. New air comes back in. Homes bring cool air back in through the crawl space. When LiveGreen does an energy audit at your home or commercial building, we take a look at the crawl space door. Some of the doors do not have air sealing. This is something we will fix. Furthermore, it is also smart to insulate the back side of the door.

Securing Crawl Space + Access Point
Our team checks the moisture levels of the crawl space and ensure there's a proper vapor barrier. Without air sealing and insulation of the crawl space door, there will be a large amount of energy loss. We do the air quality audit with a Co2 monitor. Then, we will use an aluminum rail vinyl weather seal to seal the crawl space door. We will have a pressure treated wood frame pressure/tension fit on each side of the opening that is then caulked. Next, we add a plywood door with rigid foam on the back so that it is good for weatherproofing. Some concrete patching may need to go under the bottom of the opening.
Per Matt Blaise, one of our LiveGreen experts, "A properly sealed and insulated crawl space access door is an essential component of a sealed crawl." He continues, "Without it, conditioned air can escape to the outdoors and diminish the energy savings potential."

Another great benefit to sealing your crawl space and sealing the crawl space access door is to keep rodents from getting in through the hatch. Matt highly advises homeowners and property owners to call his team if they are ready to say goodbye to rodent activity. "A crawl space door that is intact can help keep animals and pests from making a home in the crawl space," he explains.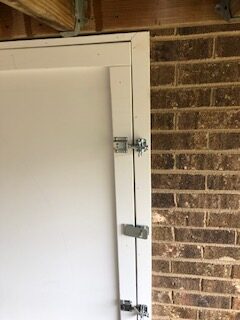 #ChooseLiveGreen
Locally owned and operated, fully insured and licensed, LiveGreen is a top choice for residents in NC. We can come out to your home and assess the crawl space situation. Just fill out the contact form or call us at (919) 453-6411 if you are interested in having our experts seal your crawl space and fixing the access door. We will be in touch shortly!