Homeowners commonly will ask LiveGreen questions when it comes to updating their insulation and sealing their crawl spaces.
Reviews
Q: Can I see pictures of your work?
Yes, please view our online gallery and also check out our Instagram page for pictures and videos.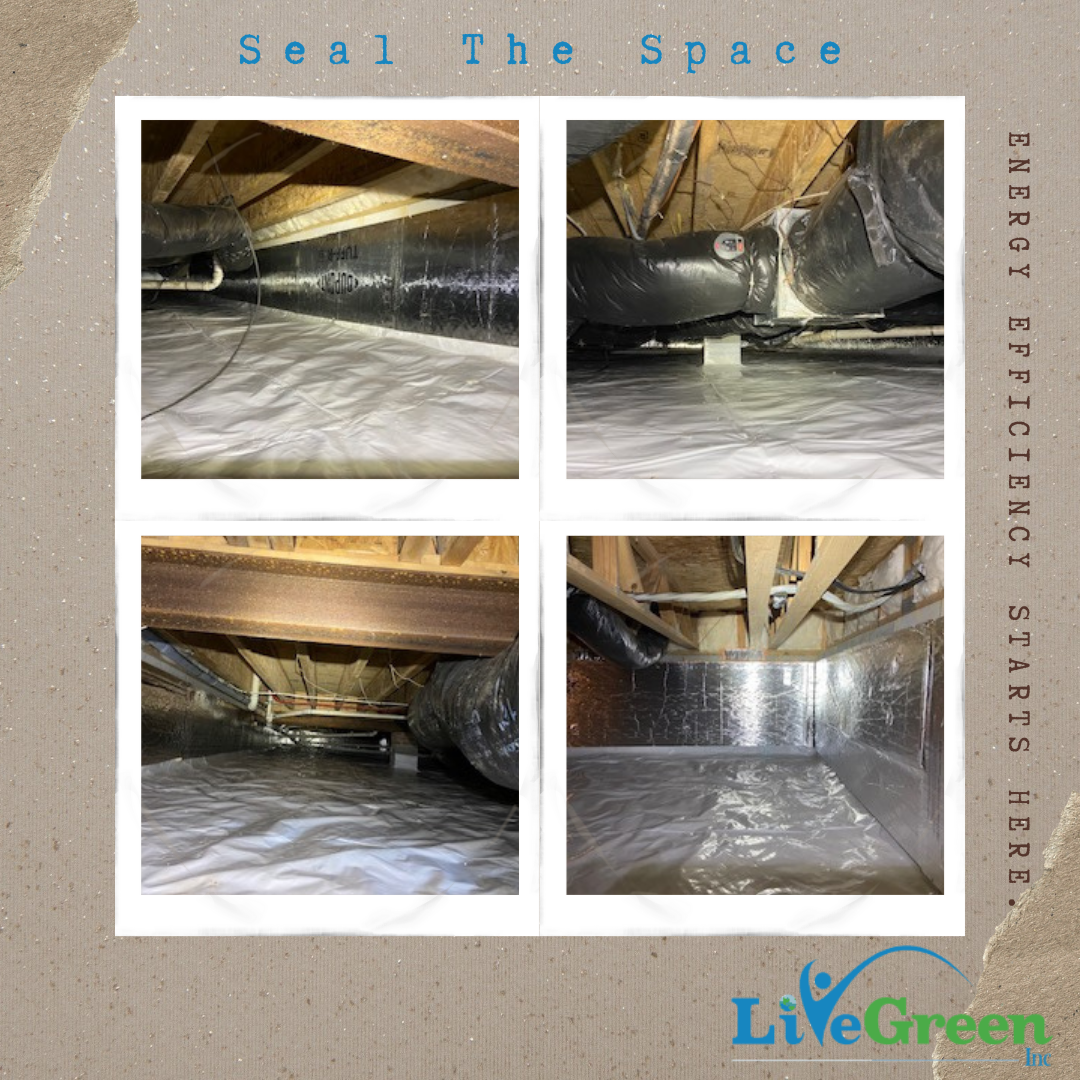 Q: Do you have reviews that we can check out?
Yes, you can search LiveGreen on Google and read our Google reviews. We also have testimonials on our Facebook company page as well as on our site here.
One of our most recent reviews comes this month from Jowita M. who testifies, "I had my crawl space sealed. They did a wonderful job. On time, short timeline, professional and excellent job quality. I shopped around for this service, and no one could beat their price. My crawl space is clean and neat looking. All my questions were answered. They even fixed my door to the crawl space for no extra charge. Absolutely recommend LiveGreen."
Lacie L also gave us five stars on our service at her home. We were able to complete the HVAC duct & vent installation for her.
LiveGreen Checks Air Ducts
Q: Can you check if our ducts are leaking?
Yes, at LiveGreen we can test the blower door and the ducts. These tests maximize your home's heating, ventilating, and air conditioning system. Fortunately, we can service your home so that your blower is working properly.
Sealing Crawl Spaces & Energy Efficiency
Q: Will sealing my crawl space help with the structural integrity of my home?
Of course! Rest assured, when we work on sealing crawl spaces, we check for structural issues. The amount of structural damage that can occur can be caused by the amount of airflow underneath the home and the location. We understand that moisture can rot wood so that there is structural damage if gone unnoticed.
Q: Will a sealed crawl space encapsulation system really help with lowering my energy bill?
Yes, the expert team at LiveGreen can install sealed crawl space encapsulation systems that will lower your energy bills. Expect about a 20% reduction.
Q: Why do I need my crawl space encapsulated, and a vapor barrier installed?
First off, when we encapsulate the crawl space, we are adding a heavy duty lining. This moisture barrier that we add under your home covers and seals the floors, walls, and the ceiling of your crawl space. It is important that a vapor barrier be durable and high quality. In addition, another service we recommend is sealing your open vents. Rest easy. Outside air and moisture won't trouble you again.
Radon Issues
Q: What is radon mitigation? What can I expect from this mitigation?
Matt Blaise (LiveGreen's Operations Manager) explained that the process begins with a 48 hour minimum continuous monitor test. LiveGreen will install and leave a monitor within the home for a minimum of 48 hours. The monitor hooks to a computer. The raw data and time averages are calculated. We send the average score to the customer. The EPA recommends remediation at or above 4 pCi/L. If the home tests above that level, the customer is provided with a custom tailored quote to install a Radon Mitigation system.
LiveGreen Installs Insulation
Q: What are some different insulation types LiveGreen installs?
Options for insulation include spray foam, blown in insulation, fiberglass, and batt insulation. Let us know if you'd like to explore your options and learn about the benefits of each.
Let's Get Started
Q: Does LiveGreen offer free estimates?
Yes, you can give us a call LiveGreen directly at (919) 453-6411 to schedule or fill out a contact form online here.